hi I would love when Fontself provide this.
I know I could use Liga howeversome glyphes use underscore
longs_t etc.
the pdfs have a list of all needed.
when I use longs_longs fontself will try to make a ligature.
better would be a smal windows that ask me
Ligatur or UNZ1
actually I have only two version of ligatures. here I would wish me the version for UNZ1 ,too.
Thank you
Stay all healthy and creative.
here you can download some UNZ1 fonts
http://www.ligafaktur.de/Startseite.html
click at
Frakturſchriften
and download the LUC Schrift 5.0 (LUC Font 5.0)
LUC fonts 〈LUC-Merkblatt〉: UNZ1A-encoded ligatures; suitable for any text program; form ſtable texts; regular Frakturſatz with Ligafaktur.
LOB fonts 〈LOB-Merkblatt〉: OpenType baſisfunctional; suitable for any OpenType-capable text program; rule-following Frakturſatz with Ligafaktur or manual.
LOV fonts 〈LOV-Merkblatt〉: OpenType full-functional; suitable for text programs with uningeſchricted OpenType functionality; rule-governed Frakturſatz ſelbſttätig.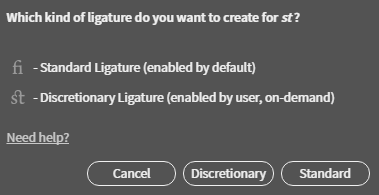 this Page is in German, plese use here Google translate.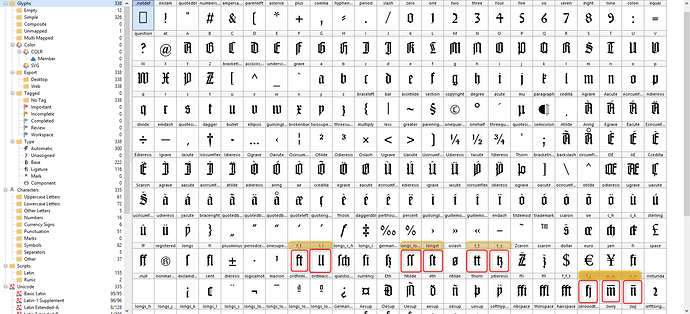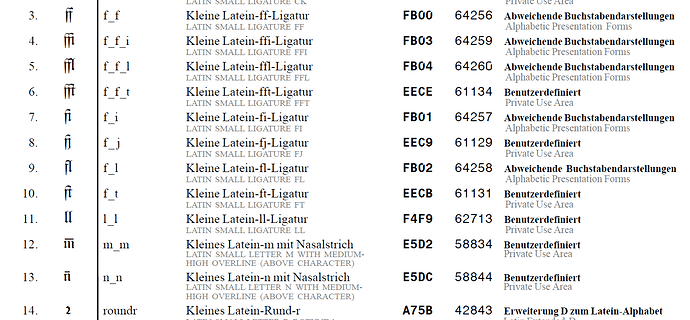 than